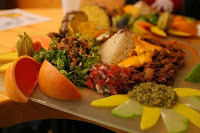 I can't cook.
There, I've said it. The problem is so bad that I've even thought about giving Robin money for groceries so that she can bring two yummy vegetarian lunches to work every day. She's a good cook, guys. It would so be worth it.
If you happen to be one of the culinarily-inclined, you might think about offering your skills up for a good cause. Not for me (though that's totally welcome!), but for the Red Cross.
This Friday, another Robin is cooking for her workplace, bringing a New Mexican feast to her co-workers at COMSYS. The menu sounds delicious:
Green chili cheese enchiladas
Red chili chicken and cheese enchiladas
Calabacitas (yellow and zucchini squash saute)
Pinto beans
Posole (hominy soup)
Bread Pudding
All they have to do is bring their own drink and a donation of any amount for the Red Cross, which sounds like a very fair exchange.
Since it's the holiday season and potlucks and parties abound, if you host an event, consider collecting funds for the Red Cross. It'll make all your guests feel warm and fuzzy, plus you'll be helping an organization that's working hard to save and rebuild lives right here in Oregon.
Talk about putting your cooking skills to good use!
Photo courtesy of mouton.rebelle