Disaster Preparedness In Urban Immigrant Communities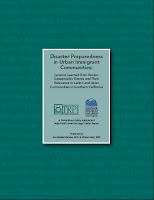 There's a paper making it's way around Red Cross circles that I thought might interest you preparedness junkies.
Entitled "Disaster Preparedness in Urban Immigrant Communities: Lessons Learned from Recent Catastrophic Events and Their Relevance to Latino and Asian Communities in Southern California," it provides some good tips on how we are (or, really, are not) reaching these audiences.
Here at the Oregon Trail Chapter, we're definitely all about taking a safety and preparedness message directly to the people. You can see this with our Together We Prepare Our Neighborhood project and our recent visit to Fiestas Patrias.
TWPON will be trying some new things in 2009, venturing into different neighborhoods and working with communities where we may have had little contact in the past. There will be language barriers to overcome and, in some cases, trust issues to be resolved, but we're not afraid of hard work to get ALL Oregonians prepared.