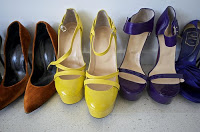 SOME of us around here have a problem with shoes.
I'm not naming names, but their initials are MW and AE. You can take it from there. (I, on the other hand, have a problem with vintage coats…but that's another story.)
Anyway, "Sharee" and "Antoinelle" will likely have a field day on Cyber Monday at stores like Zappos. And if you're anything like them, you'll want to know that by using GoodSearch's GoodShop for your shopping (holiday or otherwise), a percentage of your purchase can come right back here to the Oregon Trail Chapter.
The stores on their list are top notch, folks, and if you're already shopping on Amazon or The Apple Store or Best Buy or eBay or Gap, you might as well use GoodShop and help us out along the way. Just enter "American Red Cross – Oregon Trail Chapter," hit verify and shop away!
There is one caveat, however. If you're shopping these sites already, use GoodShop. If you're just looking for a way to make a donation to the Red Cross, you're much better off going here and not messing with the middleman. Either way, we thank you for thinking of us during the holidays!
Photo courtesy of geishaboy500