Home Alone: How'd The Kids Do?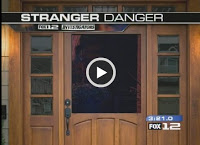 By the way, if you're interested in watching the KPTV story about kids staying home alone that I mentioned yesterday, you can see it here.
Did the kids answer the door to a stranger? Or did they follow their parents' rules? Watch and find out…
If your child needs a reminder of how to stay safe when home alone, consider signing them up for a When I'm In Charge class.