Hail To The Victors Valiant…Or Not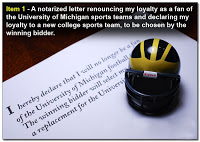 Okay, you've heard my thoughts on football a million times. But as much as I'm not a fan, I do happen to know my alma mater's fight song. And if I'm ever going to root for anyone, I'd do it for the maize and blue.
But apparently, not everyone feels the same way.
In fact, one gentleman is going so far as to completely renounce his loyalty to the Wolverines…and auction the DVD of the dispersal of his Michigan paraphernalia to the highest eBay bidder. The winner also will get the chance to determine what team he should root for in the future.
But I'm not writing about this because I care about his fandom — I'm writing because he's donating 80% of the final sale price to the American Red Cross Disaster Relief Fund. Right now, it's at $300, which really isn't too shabby!
If you want to check out the items and bid, bid, bid, go here. You can also see a very probing interview with the seller himself on Red Cross Chat.