Calling All Portland Artists — Your Help Is Needed!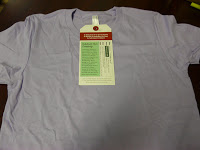 So I landed an invite to what I'm told is one of the best office holiday parties of the year. This company is always known for their creative invitations and 2008 was no exception.
Here's what I got in the mail:
This season, whether or not you believe in Santa Claus, believe in a cause. Decorate this t-shirt (see photo) on behalf of your favorite charity and bring it to the holiday party. We're setting up a t-shirt shop and selling these one-of-a-kind pieces of art to benefit your chosen charity.
Point being, I need an AMAZING Red Cross t-shirt that will garner good sales and raise some decent dough for our cause. The problem? I don't have a lick of artistic talent.
So, if you're out there and are skilled with puffy paint, bedazzlers or sequins, get in touch and exercise your talent on my t-shirt. It shouldn't take much time and your artistic skills will be rewarded. Honest. I've got goodies.
Can you think of a better way to volunteer this holiday season?