When The Weather Outside Is Frightful…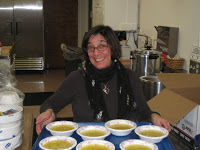 Remember this project from last year? Well, we're getting ready to do it again. And maybe as soon as this weekend.
Part of the reason that I haven't blogged our 2008-09 Emergency Warming Centers yet is because the contract with the City of Portland wasn't quite final. But, given the impeding cold weather, I really can't postpone any longer…
So here's what we're doing already:
Putting together standby staffing lists
Soliciting potential shift supervisors (experienced empoyees or registered volunteers)
Soliciting potential project coordinators (off-site resource for problem-solving)
Stocking the storage area at the main location (Foursquare Church)
Updating procedures, forms and equipment packet for shift supervisors
And here's what you can do:
Attend an Emergency Warming Center orientation (12/12, noon OR 12/20, 9-11am)
Sign up to be a shift supervisor if you have EWC experience from last year
Sign up for a shift (or a day or a week or whatever you can manage)
NOTE: We are particularly looking for people who can be on standby for the anticipated cold period this Friday/Saturday through next Tuesday. We also need people who are willing to be on standby over the Christmas and New Year's holidays.
The good news is that we already have both volunteers and staff who are interested in helping this year. But we're still happy to talk with anyone who's interested in learning more about this project. Please know that all volunteers, even those for the EWCs, must pass a Red Cross background check. You'll also have to submit an EWC volunteer form with basic contact info and availability. You can see all the info for EWC volunteers right here.
Helping to operate Emergency Warming Centers for Portland's homeless on the coldest of nights was one of the most rewarding things I did all last year. It's an incredible experience, you meet fascinating people and it gives you a nice warm (!), fuzzy feeling…especially around the holidays.
If you want to give back this season, this is definitely the way to do it!