Shelters and Centers and Partners…Oh My!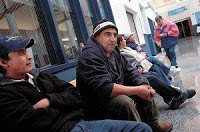 With all the talk about Emergency Warming Centers over the past two weeks, you probably are thinking that we haven't been up to much else. But you'd be so wrong!
December has proven to be an incredibly busy month — for house fires, for shelter openings, for support services to our partners. Here's just a quick look at the last week or so:
Vernonia Shelter — On December 20, a shelter opened at the Vernonia Community Church to provide assistance to residents left without power. The Red Cross has supported this operation with cots, blankets and other supplies, including batteries and self-heating meals.
Boardman Shelter — On December 26, a Red Cross shelter opened at Riverside High School after a fire at the Columbia View apartment complex in Boardman, Ore. The shelter was in operation for three days and two nights, providing 109 meals and warm place to sleep for 18 displaced residents. Affected families also received assistance with clothing, groceries and finding temporary housing.
Baker County Shelter — On December 27, a Red Cross shelter opened at the Baker County Fairgrounds at the request of ODOT and the Oregon State Police. While there were no overnight residents, the Red Cross was prepared to provide assistance to any travelers stranded along I-84.
We've also been responding to a higher than usual number of home fires. While the Chapter typically responds to a local emergency once every 36 hours, this winter has seen the frequency increase to once every 19 hours. In the last week, the Chapter has provided food, shelter and emotional support following a single family fire in Milwaukie, a multiple family fire in Tualatin, and a single family fire in The Dalles.
And, if you didn't already know, we helped out our friends at the airport, the train station, the bus station and elsewhere during Snowpocalypse '08.
If you didn't already know this, all the assistance we provide is FREE, thanks to generous donations from all of YOU. If you want to help us keep doing this important work, head over to www.oregonredcross.org/donate.
Photo of Boardman Shelter by E.J. Harris