"You Saved Lives, Folks."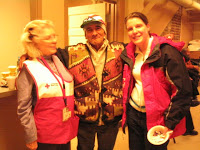 Before we take a break from the Emergency Warming Centers, I wanted to share with you two articles that appeared in last week's Oregonian.
First, Doug Bates and The O's editorial board took on the challenge of homelessness in Portland during the winter and how Oregonians can help:
Tonight, though, on Christmas Eve — the 12th night of the storm — Portland-area emergency shelters need a lot more than impromptu benefit concerts. Cash and clothing are always welcome, of course, but what's most needed now is an influx of fresh volunteers to bolster those who have worked so tirelessly since the arctic blast arrived on Dec. 14.
"It's unbelievable what's happening," said Sally Erickson, manager of the city's homeless programs. "Nobody out there [on the street] has the gear to stay out night after night in this kind of weather. People who normally would never go to a shelter are showing up now." This Christmas, more of the rest of us should consider showing up, too.
Just three days later, columnist Anna Griffin thanked all the "lifesavers" that came out to help during the storm:
Many of the heroes of the past two weeks are…at least temporarily nameless: The dozens of Portlanders who took a few minutes from their holiday festivities to carry blankets, coats and cookies to people they had never met. The Red Cross volunteers who trekked in from Beaverton, Vancouver and suburban Clackamas County to serve meals and greet guests at downtown shelters. The city and state workers who did their jobs and then stuck around for another shift. The social workers who spent late, icy nights scouting bridge underpasses and other popular camping spots, trying to coax people to come inside, just for now, just for the night.
Yet even if the spirit of giving melts along with the snow, all those unsung heroes out there made a difference. Yes, this was bad. But the human toll could have been much higher. You saved lives, folks. Thanks.
If you're one of the nearly 200 volunteers who lent their time, energy and holiday spirit to the Emergency Warming Centers, we thank you. And if you're one of the many OTC staff who worked very long hours in support of this project, we thank you as well.
Be proud. As Anna said, you saved lives, folks.