What's Your New Year's Resolution?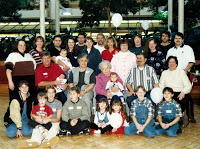 We've heard most New Year's resolutions before — lose weight, exercise more, travel, spend time with family and friends — but one local family has made the same resolution for precisely 33 years. What is it, you might ask? Donate blood.
Since 1976, the Weiss/Parker family has been donating blood as a way to kick-off the New Year. In 2009, as many as 15 family members will be donate on the same day.
So far, they've made 1,228 donations, and since one donation can help save up to three lives, the Weiss/Parker's have potentially helped benefit 3,684 lives.
How did this all begin? The late Morris Weiss inspired this annual practice. He was a devoted supporter of the Red Cross and donated an astounding twenty-two gallons of blood during his lifetime. Morris would be honored to know the tradition of a "Living New Year's Resolution" is still thriving and has now grown to a four generational event.
Morris' son Sam coordinates the annual blood donations with the assistance of his sister Elaine Parker. "Our children and grandchildren have all anticipated the opportunity to share in the tradition of 'Giving the gift of life' by donating blood. They have grown up with it."
This year, two more family members will join the ranks of lifesavers — 16-year-old Melissa Threlfall and Andrew Mittendorf, 17, who will both donate for the first time.
So what's your New Year's resolution? Consider starting a family tradition of your own — give blood!