Is Your House A Fire Hazard?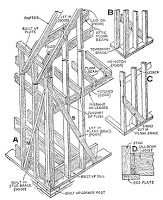 Was your house built before World War II? Does it have a "balloon frame" — fashioned from two-by-fours that extend through the full two or three stories?
If so, watch out.
According to this article, in a balloon frame house there's space between the interior and exterior walls…a space in which flames can race from the basement to the attic in a matter of moments.
As one fire chief says, they've been "the nemesis of firefighters for many, many years."
I'm not 100% percent sure about the prevalence of balloon-frame houses here in Oregon, but there are supposedly tens of thousands of these homes in the United States. According to the article, today's homes are built with platform or western framing, where interior wall spaces are eliminated and each floor is sealed off from other floors.
It should be noted that older homes are not necessarily more dangerous than newer ones; the article mentions synthetic materials in newer homes and features such as high-ceilinged "great rooms" that can pose fire risks. New homes may also contain lots of plastics and smaller, lighter materials that run the risk of buring faster.
So what can you do to prevent a home fire? Add a smoke detector on every floor and consider a carbon monoxide detector. Also check out these tips for fire safety.
The Red Cross will be there to respond when home fires happens, but we'd much rather you be safe in the first place!
Thanks to our friend @carolARC for passing along this fascinating article!