Jan. 8: What We've Been Up to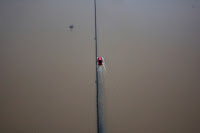 Did you hear the wind last night? It was CRAZY. I thought for sure my power was going to go out…at least I would have been prepared with these tips.
But even though the storm didn't hit Oregon has hard as expected (see here and here), it hit Washington with a vengeance. Not sure what the weather has against Washingtonians, but the Red Cross has opened a whopping 24 shelters in the state.
Here in Oregon, things are a little more low-key. We opened one shelter in Clatskanie and though there were two clients that stopped by in the morning, they were both gone by noon. There's a possibility that more people will stop by once they leave work and the shelter will definitely be open through the night. All told, there are around 80 people who could potentially be affected by flooding in the immediate area, so it could be a busy place.
Since New Year's, we've had several calls from one apartment complex in Clackamas County along Lake Road. And, to date, we've been able to help out 13 of 20 apartments, each of which has anywhere from 3-20″ inches of water inside. We're giving the residents a week in a hotel, which should provide an opportunity for their apartments to dry out.
I can't talk about the last response just yet, but it has to do with stranded travelers. With I-5 into Washington closed, there are lots of people stuck in Portland for longer than anticipated and it's looking like we'll be tapped to help them out.
So, all in all, a busy day here at the Oregon Trail Chapter. But not nearly as busy as our friends up in Washington — good luck to them in their flood recovery efforts.
Photo courtesy of Bruce Ely/The Oregonian