Breakfast Of Champions: Get Tickets Now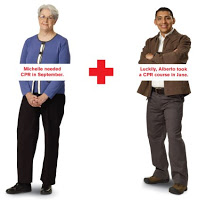 We're coming up on the annual Breakfast of Champions event, our yearly look at Oregonians who've committed heroic acts.
From what I can tell, we've got a really great bunch. Locals who have performed CPR, used AEDs, rescued family members and done all-around amazing things. While I can't share their names yet, I'd urge you to take a look at last year's press release to get an idea of the stories you'll hear at the event.
If heart-warming saves weren't enough, we'll also give you a hot breakfast and — new this year — re-create some pretty impressive Red Cross scenarios. I guarantee you'll feel like you're right in the middle of the action.
AND FINALLY, we've drastically lowered the ticket price for this year's event. It's now just $15 to attend, which is essentially the cost of the breakfast itself.
So mark Tuesday, March 17 on your calendar and buy your ticket now. It'll be well worth attending!