Martin Luther King, Jr. Blood and Organ Registry Drive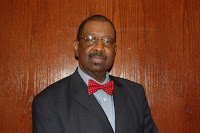 Reverend Dr. T. Allen Bethel is a grateful kidney transplant recipient who's happy to be free from the confinement that kidney disease and dialysis. Dr Bethel, Senior Pastor at Maranatha Church,
Hey, since we're talking about this, why don't you come to
Red Cross
Portland Donor Center on Saturday, January 24. We'll be celebrating the life and work of Martin Luther King, Jr. and while you're here, you can learn more about blood and
organ donation
. Did you know that the number of men, women and children in the U.S. waiting for an organ transplant is quickly approaching 100,000 and 1,900 of these individuals live in the Pacific Northwest.
The event is co-sponsored by the American Red Cross, Donate Life Northwest,
The Skanner newspaper
, Safeway, and
The Urban League
. It will be worth your time to stop by, each presenting donor will receive a complimentary Martin Luther King, Jr. special-edition pin (while supplies last.) There will also be a drawing for a
$100 Safeway gift card
(I didn't know Safeway has a blog) free health screening by Roosevelt Power Academy students, and a 15% off coupon for a training class or one item in the
Red Cross store
.