Works Begins On Four Holocaust Tracings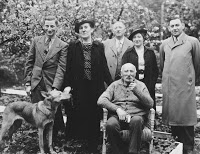 It's not every day that we get a Holocaust tracing request. With each year that passes, the requests are fewer and further between, as those who survived World War II continue to age or pass away themselves. That's why we take immediate action when such a request arrives.
Or four requests, as we've just received.
These four Oregonians want to know what happened to friends and family who were victims of Nazi persecution, living in Europe, Eastern Europe and the former U.S.S.R. between 1933 and 1957. We'll help them out by working with the individual to fill out a Holocaust and World War II Program Tracing Inquiry form, which will then be sent on to the Holocaust and War Victims Tracing Center in Baltimore. The center then uses the combined resources from a worldwide network of national Red Cross and Red Crescent Societies, the Magen David Adom and countless museums, archives and organizations around the world.
While we can't guarantee a happy ending, here's one example of a tracing that we did for an Oregon woman.
If you'd like to initiate a search yourself, you'll need to show proof of:
– Internment
– Forced and slave labor.
– Deportation, evacuation or dislocation from occupied regions
– Evacuation and/or flight from Soviet territories.
– Displaced persons throughout the area affected by World War II and its aftermath.
To find out more about how we can help, click here. Thanks to Polly for the tip!
Photo courtesy of the US Holocaust Memorial Museum