Connecting Pets And People After Disaster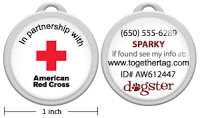 I am a dog person.
Robin, as you can tell by her love for www.icanhascheezburger.com, is a cat person.
But I think it goes without saying that, no matter what you might own, we want ALL pets to be reunited with their owners after a disaster.
This is why I appreciate the new Together Tag, which acts a little like the Safe and Well website — but for pets, not people.
As the site says, "When disaster strikes, phone lines and cellular towers can be damaged or destroyed, which means that you might not be able to be contacted right away. That's why we provide you with the ability to safely store secondary and out-of-area emergency contact information. This means that if your lost dog or cat is found, one of your close friends will be notified if you can't be reached."
Essentially, since your pet can't carry around an emergency contact card, Together Tag stores pertinent info on their behalf.
The tag itself isn't anything fancy (though it is tested to withstand extreme conditions), so you're really paying for the online capabilities. Nicely, the parent companies — Dogster and Catster — are donating $5 from every tag sold to the Red Cross' pet safety program, so you can feel good knowing that — one way or another — your dollars are helping to protect pets nationwide.