Check Out This Pukka Advertising Campaign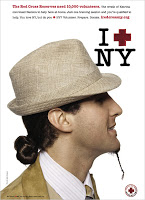 I (heart) New York.
Designed by Milton Glaser in 1977, this logo has "been reproduced innumerable times, in versions both official and unauthorized."
And now, with the approval of Gov. David A. Paterson, it's been modifed to work for the American Red Cross in Greater New York.
Here are just a few tidbits from this New York Times article, which is well worth reading:
The campaign is aimed at building up the "Red Cross Reserves," volunteers who take a 6-hour training session and are then qualified to help in major disasters.
There are currently 6,200 members of the Reserves; they hope to grow that to 10,000.
The campaign has its own website, t-shirts and buttons.
The campaign was created by Ogilvy & Mather Worldwide, with the help of sibling agencies Neo@Ogilvy and Kinetic.
It was created pro bono and will receive about $2.5 million to $3 million of donated advertising space and commercial time.
But here's my very favorite part of the article. Spencer Osborn, worldwide managing director at Ogilvy New York, is quoted as saying, "[New York State officials] were very happy to help an organization as pukka as the Red Cross."
What's that mean, you ask? Turns out it's British slang for "first-class" or "authentic."
The American Red Cross — We're Pukka. Sounds like the makings of a pretty sweet campaign itself, no?