Breakfast of Champions: It's Egg-cellent!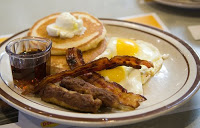 If you're hungry for stories of Oregonians who have performed heroic feats, I'd urge you to scramble on down to the Oregon Convention Center next Tuesday morning for our annual Breakfast of Champions event.
The program is stuffed with juice-y content. You'll meet our 2009 heroes, hear from a man whose life was impacted by our work and get an inside look at some Red Cross re-enactments that will be anything but half-baked.
So buy your ticket now — you won't want to miss this opportunity to toast our heroes!
Photo courtesy of Joits