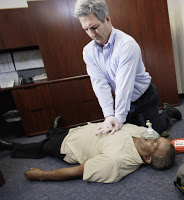 Just got this story about an incredible CPR save from our friends over at PGE. Read on…
Wireman Bob Meyers had planned to make just a quick stop at the grocery on his way to work on March 19. Instead, the stop turned into a test of the years of training in cardiopulmonary resuscitation (CPR) that he's had at PGE.
"I was halfway through the store when I heard an announcement asking if there was anyone in the store who knew CPR," says Meyers. "I went up to the front of the store, and there was an older gentleman lying on the floor. Six clerks were standing around who had no idea of what to do."

After checking that the man's airway was clear, Meyers gave him two rescue breaths, checked for a pulse, and finding none, began chest compressions. After the fourth or fifth repetition of compressions, medics arrived, and Meyers stepped out of the way to let them take over. They revived the man with an automated external defibrillator (AED).
"After all these years of training, it was all automatic, and I just did what I'd learned to do," says Meyers, who was taking refresher courses in first-aid and CPR training this week. "In these situations, time is of the essence. Having the right training is absolutely essential."
Meyers learned earlier this week that the man he helped is still in the hospital but doing all right. Meyers' supervisor, Dale Goodman, says this incident — the first time Meyers had ever had to use CPR — is a good reminder of how important the required training is.
"It really drives home the point of why we do it," Goodman says. "Bob did a great job, and it's nice to know that we're all trained well and can respond well in this kind of situation."
As for Meyers, he feels good that he was able to do what was needed when it was needed. And, he notes, he still managed to make it to work on time.
We LOVE hearing stories like this; stories that prove getting trained makes you ready to save a life — any time, any where.
If you're interested in getting some training at your workplace, click here. And if you want to be a life-saver like Bob and sign up for CPR classes yourself, click here.