The cuddliest red blood cell around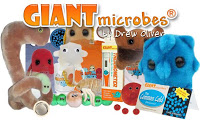 Speaking of educational gifts. . .
I can't stop giggling about all of the items for sale from
GIANTmicrobes
, a company that makes larger-than-life plush stuffed "animal" microbes. Examples of stuffed microbes for sale on the site include: The Common Cold, E. coli, Antrhax, Black Death, and Gonorrhea.
If you're looking for the perfect gift for that loyal, compassionate, bleeding-heart (punny!) blood donor, GIANTmicrobes sells a stuffed
Red Blood Cell
and a stuffed
White Blood Cell
.
The staff at GIANTmicrobes obviously have a great sense of humor, as reflected in the website descriptions of their items. Here's what they say about the Red Blood Cell: The life of the party, his best trick is to hold his breath until he turns blue! Invite him to your next bash and he's sure to show you a bloody good time.
Not only are GIANTmicrobes educational, they're funny, cute, AND cuddly. What more could you want in a gift? I'm tempted to buy the
Mad Cow
microbe for my boyfriend who
lived in England during the 1990s
and the
Bed Bug
microbe for my friend who actually had bed bugs recently. They'd either appreciate the humor in the gifts or think I'm obnoxious. Whatever…