Our World, Your Move…To Facebook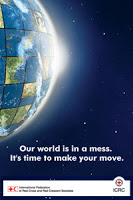 Robin already alluded to the new Our World, Your Move website in her recent Worldwide Wednesday Wrap-up, and we'll talk more about this cool new initiative on May 8.
In the interim, I wanted to take a moment to point you to the campaign's new Facebook page.
As the page says, Our World, Your Move "highlights today's most pressing humanitarian challenges and the power of individuals to make a difference in the lives of others. By becoming interested and aware, and by 'making a move' to help others, everyone can help restore hope and order to a world in a mess."
If you support the International Red Cross and Red Crescent Movement, you'll want to be a part of this. Become a fan now!
BTW, reading all the comments left on the page is quite inspiring — definitely makes you proud to be part of the Movement, whether as staff, volunteer, donor or other member.