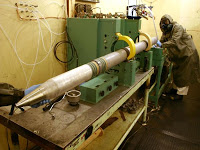 This month, we've been busy with lots of drills; testing our capacity to respond to disasters around the state. Yesterday there was one out in Umatilla…here's a recap:
(BTW, we have to start all drill-related messages like this — EXERCISE * EXERCISE * EXERCISE)
The Oregon Trail Chapter opened two shelters, supported two assistance centers and three emergency operations centers as part of the annual CSEPP exercise. The chemical emergency resulted in a "shelter-in-place" order for residents around the Umatilla Chemical Depot, followed by a self-evacuation.

Shelters were opened in Pendleton with our partner, the Salvation Army, and in Heppner at the Heppner High School. Two assistance centers were established to receive evacuees, perform decontamination, process welfare inquiry information and direct evacuees to shelters in the area.
The Emergency Kitchen Response Vehicle (EKRV) was set up at the Umatilla County Justice Center and meals were provided to the Umatilla Tribal Emergency Operations Center, Tribal Assistance Center, Umatilla County Emergency Operations Center and the operations headquarters in the Pendleton office.
There were many players in this drill, including volunteers and staff from the Willamette Chapter, Columbia River District and the Red Cross of King and Kitsap Counties. But very extra special thanks goes to the Northeastern Oregon District, who covers this territory and did a ton of the work.
Thanks to all of the outstanding Red Crossers who helped make this drill a success!