Doing Good While Looking Good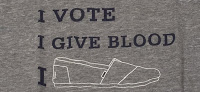 My birthday is next week. My boyfriend has serious "gift pressure anxiety" and always claims he doesn't know what to get me for my birthday, albeit my obvious attempts to help him. I'm constantly saying the phrase "I want this" while vociferously pointing to a dress, a pair of shoes, an art print on Etsy, a vintage teapot…you get the idea.
But this year (with the help of this blog post, which I will cleverly email to my boyfriend later today), my blatant attempts to help him with gift-giving (hopefully) won't be futile like in years past.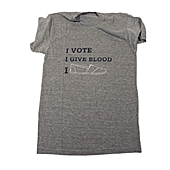 KYLE– HERE IT IS IN WRITING (do I really need to type-shout this?)…
I want this cute little do-gooder tee by TOMS Shoes. It's oh-so-adorable and oh-so-true! I vote, I give blood, AND I support TOMS Shoes. I don't typically like graphic tees, but how can I resist this one knowing that TOMS will donate a new pair of shoes to a child in need when someone purchases this shirt or any other item from TOMS?
TOMS satisfies and balances my shallow consumerist wants (fashionable footwear) with more laudable humanitarian desires (help alleviate the effects of global poverty). It's the kind of shopping that doesn't leave you feeling guilty (warning: this link may require Kleenex).
I hope this post will help spread the word about a cool cause, but, on a superficial level, I hope it will also help my boyfriend get an idea of what I want for my birthday. (I could say he doesn't have to get me anything, but honestly, would I really mean it?) By the way, Kyle, I also like TOMS University Navy Rope Sole shoes. Size 6.5 or 7. Just a hint…a seriously direct and straightforward hint.