Hit The Bullseye; Help The Red Cross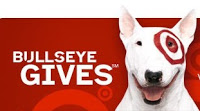 Whether I'm checking out the fashion-forward Go International collection or browsing the fun and funky Red Hot Shop, I'm a big fan of Target and their stylish, yet wallet-friendly, options.
And if that wasn't enough, I've now got one (or make that 3 million?) more reasons to heart that big red bullseye.
From now through through May 25, Target is hosting Bullseye Gives, a Facebook campaign that allows people to vote online and decide which of 10 national charities (including the American Red Cross) should receive a portion of its $3 million in charitable giving. The more votes a charity receives, the more money they get.
So get out and vote — once a day, every day. Just think…this is one easy way that you can help fund our mission while still saving your hard-earned dough for those tempting dollar bins.