Won't You Be My Neighbor?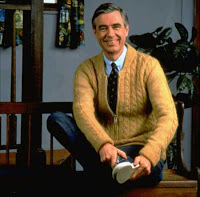 Chances are that before you knew how to Stop Drop & Roll or Drop Cover & Hold On, an old man in a cardigan had already taught you one of the best preparedness tips you'll ever learn: to be a good neighbor. 
It may sound campy, but it's true. Your neighbors are some of the best resources you have in a disaster. So get to know them! 
Don't believe me? Take it
from this California blogger
.
It took a major earthquake
to remind her of that important lesson Mr. Rogers taught us all so long ago.
And it took
her
blog post to remind
me
. I've lived in my apartment for nine months and only know the names of a few folks. Now that it's sunny out, I have no excuse not to organize a neighborhood barbecue! Mmmm…. hot grills and cold brews – who says preparedness can't be fun?
[
Hat tip to my friend 
Audrey
for sharing that post.
]