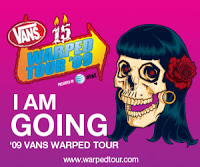 The Red Cross knows that blood donors totally rock. We also think that giving blood and helping to save lives doesn't always have to be as serious as it sounds. That's why this summer we are encouraging people to donate blood and have some fun by rocking out at the 2009 Vans Warped Tour music festival.
Anyone who presents to donate blood at an American Red Cross "Red Cross Rocks/Music Saves Lives" blood drive will receive a free VIP access voucher to a 2009 Vans Warped Tour concert (while supplies last). VIP access vouchers are not entry tickets to the Warped Tour; in order to use the VIP vouchers, blood donors must first purchase a Vans Warped Tour ticket. Vouchers can be exchanged at the concert for wristbands that let concert-goers enter the exclusive Warped Tour VIP lounge area inside the concert grounds. Sounds kind of exciting, doesn't it?
It's sad, but true, that the Red Cross usually sees a drop in blood donations during the summer months when most people are taking vacations. If you'd like to help maintain an adequate blood supply during the summer AND rock your socks off in the VIP lounge of the Vans Warped Tour, you can find participating Red Cross Rocks/Music Saves Lives blood drives by logging on to www.GiveLife.org and entering the sponsor code "warpedtour."
Rock on, blood donors, ROCK ON! Can't you just hear the crowd cheering you on for all those lives you're helping to save? I demand an encore!