Red Cross at the Starlight Parade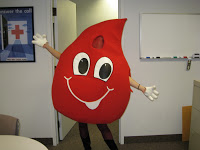 I have major Portland pride. I love this city and I try to get everyone I know and love to move here. It's a great place to grow up, too. As a child (well, and adult, too), I would get super excited for Rose Festival time and all the traditions that this time of year brings.
This year, the Red Cross will be participating in the Rose Festival Starlight Parade (tomorrow night–5/30). You're invited to join in on the fun and to cheer us on.
We hope to see you there! We appreciate your support.

Photo: Buddy Blood Drop, the star of the Red Cross float in the Starlight parade.