"Red Cross Racers" Place Fifth in the 2009 Dragon Boat Races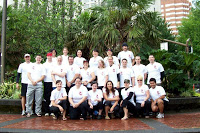 Last Sunday, the "Red Cross Racers," a dedicated team of 25 Red Cross staff members, family, friends, and volunteers, took fifth place in their division of the 2009 Rose Festival Dragon Boat Races. Throughout the weekend, the Red Cross Racers rowed their way to the finish line a total of four times, each 535 meter race lasting about three minutes.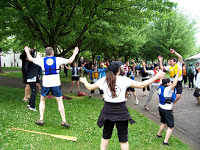 Today I sat down with Red Cross Racers' captain Deanna Janes to find out more about what it's like to be a Dragon Boat racer. I have to say, I'm seriously impressed by the time and dedication put forth by each team member. The practice schedule is intense! The team got together three times a week for a total of ten weeks. It takes a lot out of you physically, but according to Deanna,
Dragon Boat
racing is more of "a sport of focus, commitment, and of course, having fun."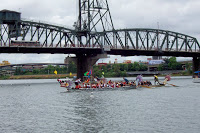 The Red Cross Racers' practice schedule begins in early March when, as any Portlander knows, the weather is typically less than pleasant. "It sounds like it should be kind of miserable," Deanna told me, "it's rainy, cold, and often dark when we practice." But Deanna says the elements can't stop the team: "it's completely worth it to brave the weather–the team is just so great. I'm sad the season is over."
Although the 2009 racing season has come to an end, it won't be long before Deanna starts to plan the 2010 team. If you're a Red Cross staffer, volunteer, or supporter and you're interested in being on the team, leave a comment on this blog and I'll connect you to Deanna.
Congratulations to the Red Cross Racers for a fantastic racing season! Thank you for braving, wind, rain, and water to represent the Red Cross at such an important and iconic Portland tradition.
Photos: 1) The Red Cross Racers team, 2) The Red Cross Racers stretching and doing visualization exercises before a big race, 3) The Red Cross Racers on the Willamette River showing off their months of hard work