Salem Doctor Helps to Organize Blood Drives After Receiving Blood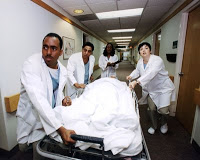 Working at the Red Cross, it's not uncommon to hear inspirational stories about someone whose life was touched or saved by a service of the Red Cross. After hearing so many such stories, you would think I'd be immune to their tear-inducing properties. Not so. Every time I hear a new one, I turn into a whimpering, sentimental softie. It's kind of embarrassing.
Recently I was inspired by
an article in the Statesman Journal
about a Salem, Oregon doctor named Joel Hopkin. As a result of an accident that crushed both of his legs, Joel needed multiple surgeries and 26 units of blood to help save his life. He also received plasma transfusions and 22 units of packed red blood cells.
What's particularly amazing about Joel's recovery is that he maintained an optimistic attitude throughout the entire process. Grateful for the blood he received, he even helped to organize Red Cross blood drives.
From the article:
…in the middle of what should have been denial, anger, acceptance and grief for what would be lost, the Hopkins helped organize blood drives in Salem and Albany…The response was the stuff of Red Cross dreams. Full appointment schedules for the event and weeks of donations following the drives. The Hopkins received donor cards for months following the sleeve roll-ups. "Our sharing…gives us strength," Joel said. "We know well that you can find yourself relying on the gift of others to survive, so it's time to do it again."


Next Thursday, June 25, Joel and his wife have helped to organize a blood drive at Crossler Middle School in Salem
from 1:30pm to 6:30pm. You can make an appointment to donate at the drive by calling (503) 585-5416. Or visit
http://www.givelife.org/
and enter the code "oursaviorsalem."