Cooking Up A Storm For Earthquake Relief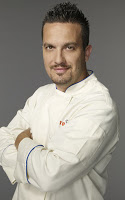 I've mentioned before that Bravo's Top Chef loves the Red Cross (see Andrew's t-shirt here) and now there's some tasty proof of the mutual affinity…former competitor Fabio Viviani has been cooking up a storm for earthquake relief.
You might recall that on April 6 (a very important date), a magnitude 6.3 earthquake shook central Italy, leaving almost 300 dead and 28,000 homeless and triggering several strong aftershocks. The earthquake was the worst to hit the region in nearly three decades.
While the Red Cross helps communities recover from this disaster, Chef Fabio is preparing 16 dishes derivative of the affected region and sharing the scrumptious recipes with you.
Here's a taste of what's been done so far:
Day 1: TIELLA: VEDURE AL FORNE – Vegetable Stew with Mint Vinaigrette
Day 2: RAVIOLI NUDI – Ricotta and Spinach Malfatti
Day 3: SPEIDINI DI FRUTTA – Grilled Fruit Skewers
Day 4: Tiramisu
Day 5: INSALATA DI FAGIOLI E FORMAGGIO DI LAPRA – Bean Salad with Goat Cheese & Orange Vinaigrette
Day 6: FETTUCCINE CON CAVOLO E PANCETTA – Fettuccine with Brussels Sprouts & Pancetta
Day 7: ZUPPE FREDDA – Gazpacho
Day 8: FRITTELLE DI RICOTTA – Ricotta Fritters with Raisins & Chocolate
Day 9: INSALATA CAPRESE CON PESTO – Roasted Tomato Salad with Mozzarella & Pesto
Day 10 – POLLO AL PROSCIUTTO E CARCIOFI – Chicken Prosciutto with Artichokes
Day 11: Baccala con Peperoni – Baccala with Grilled Bell Peppers
Day 12: Pasta Ai Calamari E Pesto Di Spinaci – Calamari and Pasta with Spinach Pesto
Day 13: Speidini Di Salsi Clia E Conglio – Roasted Rabbit Skewers with Sausage
Whether you love veggies, sweets or the Red Cross, I urge you to support this yummy campaign.
And while you're thinking Top Chef, consider voting for Tom Colicchio as "Best Reality-Show Judge." He's the only one I know of that has saved a life!