Fourth Of July Weekend: No Picnic For Some Local Families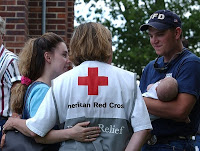 While you were BBQ'ing and otherwise relaxing all weekend, our Disaster Action Team volunteers were hard at work, heading all over the metro area to help families in need. Here's what they accomplished:
Thursday, July 2
Single Family Fire
Milwaukie, OR
We assisted two adults and two children with clothing and food. Fortunately they were able to stay with family in their neighborhood.
Friday, July 3
Single Family Fire
NE Portland
This fire caused significant damage, including the loss of the family cat and car. As a result, we called on our disaster mental health team to provide emotional support and our nursing team to help arrange a burial for the cat. We also provided clothing, food, lodging and medical equipment.
Saturday, July 4
Single Family Fire
West Linn, OR
A three-alarm fire occurred after the family left for camping trip — two adults, four kids and a dog and cat were displaced. The family was able to stay with neighbors, but we helped out with food and clothing. Our disaster mental health team will follow-up to see if the children need additional assistance.
Sunday, July 5
Single Family Fire
Hillsboro, OR
While this fire primarily caused only attic and roof damage, this couple needed special housing due to health conditions. We helped with food and medical transportation, and researched additional resources. Their dog was able to stay with family.