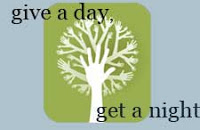 Here at the Red Cross, we're all about rewarding volunteerism. As you might know, more than 90% of our workforce is volunteers and we couldn't accomplish just about anything that we do without their invaluable help.
We've got volunteer nurses and psychologists and graphic designers and photographers and accountants and instructors and data entry specialists and receptionists and folks willing to get up in the wee hours of the night to do help out at a housefire.
In short, our volunteers are the heart and soul of our organization.
And honestly, with all the work they do, they could probably use a break. A quick getaway to, say, play golf in Arizona. Or visit the zoo in San Diego. Or just head to a classy hotel in downtown Portland for the night.
I tell you this because the nice folks at Sage Hospitality are rewarding volunteers all over the country with a "Give A Day, Get A Night" offer. Just put in 8 hours of community service (and we know our volunteers do a LOT more than that) and get a free night's stay or a 50% discount.
Whether you're a current volunteer or interested in becoming one, I love the idea of room service for community service. Nice!
P.S. For those of you who are disaster responders, I've asked if Red Crossers are eligible for the "Half Price For Heroes" special. I'll let you know what I hear!