Ready Radio Interview: We Grill The NFPA's "Principal Gas Engineer" About Grill Safety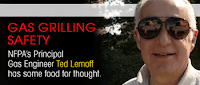 With summer in full swing, we're betting that you've pulled out the grill at least once or twice. But firing it up doesn't have to mean burning the house down.
From checking hoses for spiders to cleaning off any squirrel residue, Ted Lemoff – Principal Gas Engineer with the National Fire Protection Agency – gave us great tips for safe summer grilling. You'll find out the different dangers of propane vs. charcoal; how to get your briquettes lit (hint: not with gasoline); and how to tell when your ashes are safe for disposal.
The grilling expert even revealed his favorite food to BBQ, which ISN'T a hamburger or hot dog. You'll have to listen to an upcoming episode of Ready Radio to find out the answer!