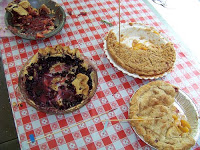 As seen on the Portland Pie-Off Blog:
When you're about to drown in Monday paperwork, a sweet, summery cherry filling can save the day. And how many pumpkin pies have helped you survive the holidays?
The American Red Cross has long been the expert when it comes to saving lives – through CPR classes, swim lessons, disaster preparedness training and now…pie.
The cool kids down at the American Red Cross have created the CPR Pie; a concoction where the first letter of the three main ingredients must spell out C-P-R.
Need a hint? How about Cherry, Peach, Raspberry? Or Chocolate, Pear, Ricotta? Or Cranberry, Pecan, Rhubarb?
The American Red Cross is the official sponsor of the CPR Pie category and will be on-hand at the Pie-Off to judge. They'll reward the best piemaker with a t-shirt that tells the universe you're ready for anything and a free CPR class so you can literally save a life…with or without a slice on hand.
So what are you waiting for? Pull out your pie pans, read the rules, fill out a registration form and get ready for the big event on August 16.
We'll be there…what about you?