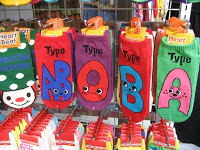 Hey, baby, what's your blood type…?
Most people in the U.S. know their astrological star sign and the associated personality traits that you're supposed to possess for being born on a certain day. Much like star signs, in certain other countries, blood groups are considered to determine personality types and temperament.
In Japan, for example, people are thought to possess the below traits based on their blood group. (The following information was taken from
this website
. It also tells an interesting history about blood group personality traits in Japanese culture.)
Group O: trendsetter, loyal, passionate, self-confident, independent, ambitious, vain, jealous
Group A: calm, patient, sensitive, responsible, overcautious, stubborn, unable to relax
Group B: individualist, dislike custom, strong, optimistic, creative, flexible, wild, unpredictable
Group AB: cool, controlled, rational, sociable, popular, critical, sometimes standoffish, indecisive
So, what do you think? Does your blood group match your personality? Are you totally AB or totally O?
Like star signs and horoscopes, there's no scientific support for blood group personality traits, but that doesn't mean it's not fun to think about (that is "soooo O" of me to say).