Blowing The Whistle On A CPR Save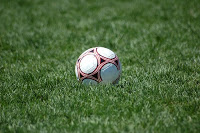 Over the weekend, Denny — a local soccer referee — suffered a heart attack immediately following a 12-minute run, conducted for a MISOA fitness test. [If you didn't know, MISOA is the high school soccer official's association in the Portland metro area.]
A week and a half ago, Jamal completed his instructor training with the Red Cross , in preparation for being able to teach the course to co-workers at Multnomah County.
Fortunately for Denny, Jamal was well-trained and ready to jump into action when needed. Here's what one of the other people at the scene had to say:
"It was very scary today as we realized just how quickly the unexpected can occur. We are very fortunate that Jessica and Jamal administered CPR and kept him going until the paramedics arrived. Others helped by holding his hand and talking to him, the level of care and concern was meaningful.
According to his doctor, THANKFULLY, it appears that Denny will make a good recovery, although he will spend a few days at the hospital.
It is at times like this that I am reminded once again how wonderful our "soccer family" is, thanks to all of you."
You never know when you might need the skills to save a life — the life of a friend, family member, co-worker or neighbor. Be prepared for anything; sign up for a CPR class today.
Photo courtesy of glennharper