My Tribute To Reading Rainbow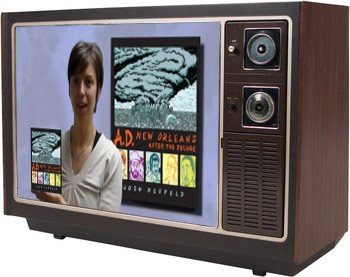 In tribute to both the fourth anniversary of Hurricane Katrina and today's cancellation of Reading Rainbow (one of the best children's TV shows in history), I present the following book recommendation:
[Read in the nervous, awkwardly rehearsed voice I would have had if I'd been one of
the
Rainbow Readers
…]
Hi. My name is Robin. And I would like to tell you about a great book I just read. It is called
A.D.: New Orleans After The Deluge
. Yes, it is a graphic novel, but don't be fooled – it's not just a silly comic book.
A.D.
feels more like a documentary film – reenacting the moving real life stories of Katrina survivors. The art itself is incredible and tells the story in a way that words alone could not.
(Yes, that is my very hasty photoshop of me had I been on Reading Rainbow.)