Carver Mitigation Project!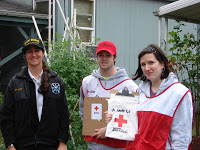 As a specialist of preparedness I feel wildly qualified to talk about the fire/flood preparedness project the AmeriCorps brigadiers engaged in this weekend. But really, I just want to share about our fantastic day in Carver, OR.
Our Saturday began with a short journey to the Clackamas County Fire Station where we met up with two awesome fire prevention specialists, Alice and Kevin. After they kindly fed us we all headed off to Carver Mobile Home Ranch to spread the word (and some free supplies) about preparedness.
Our group went door to door and gave out information, first aid kits, and smoke detectors to the residents as well as sharing in some really good conversation. We learned that our arrival was very timely for one household – they had had a small fire the week before and their smoke alarm never sounded. Many people had us come inside their homes to inspect their current smoke alarms and ask questions. The overall response was enthusiastic and there was a real eagerness amongst people to learn more about how to prepare themselves and their loved ones. It may have been a drizzly day, but this was one parade that did not get rained out. Go Team Prepare!
By the numbers, this is what we did:
40 households received preparedness information
35 households got vintage first aid kits
28 households took smoke detectors to replace or supplement their old ones
10 households expressed interest in taking a lifesaving skills class
And a big thanks to the effort and expertise of Kelly, Alice, and Kevin!