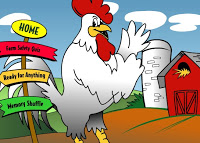 I grew up in Oregon, but as an urban Portlander, I don't know that I ever saw a tractor. Really, it wasn't until this year's Steam-Up that I saw farm machines in action. I guess I'm just a city girl.
But there are many parts of our state that are rural to the core and where green and yellow stand for John Deere rather than the Oregon Ducks. Kids in those communities need to know how to be safe around heavy equipment…and how to make a plan for a emergencies.
If you've got a little time on your hands to play tic-tac-toe or memory, check out John Deere's safety site for kids. From house fires to lawn and farm safety, it's another great way to be prepared for anything.
P.S. FYI that the Steam-Up is held at Antique Powerland. Coolest. Name. Ever.