Giving Blood Japanese Style
Tara's "Before I Die" List:
-Travel to India
-Volunteer at an elephant orphanage
-Learn French and improve Spanish
-Backpack through Europe again
-Have some babies
-Try snowboarding (again!)
-Donate Blood in Japan with Lise and Robin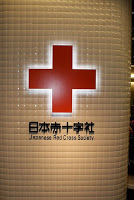 After you read this blog, you're definitely going t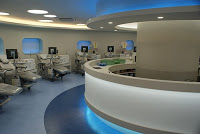 o want to join me, Lise and Robin for the last item on my list. The Red Cross Society has opened a brand new blood donation center in Akihabara, Japan called Akiba:F. But Akiba:F isn't just any blood donation center. It's the world's craziest, most stylish, awesomely futuristic, swanky bar-esque, Star Trek Enterprise-looking blood center in the entire galaxy. It's madness! In fact, it rocks my socks off.
I'm honestly having a tough time selecting which pictures to feature on this post. You'll just have to
see for yourself
. And when you're ready to go to Japan, call up the Cross Blog blogettes (Moshi Moshi!). We'll meet you there.