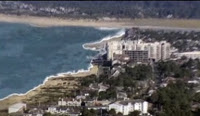 I have a secret passion for re-enactments.
No, not like the Civil War stuff. More like what's featured on shows like Surviving Disaster and, one of my all-time favorites, Unsolved Mysteries.
So you can only imagine my delight to see — well, not really a re-enactment — but a really "dramatic interpretation" of what a mega-tsunami hitting the Oregon Coast might look like.
Ah, poor little town of Seaside. Watch the havoc ensue!