Hope Floats In New Orleans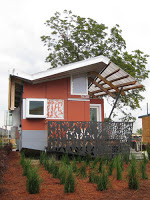 Today, a floating house is unveiled.
Sure, there are floating homes everywhere. In fact, one need only look towards the Willamette River to see a ton of them here in our own backyard.
But this home is different. It's located in New Orleans' Lower 9th Ward and it was specifically designed to withstand flooding.
According to the story on NPR, the designers gave the building a chassis, made it out of polystyrene foam and covered it with glass-reinforced concrete. The house is anchored to the ground by two vertical guideposts. At times of flooding, the house moves up the guideposts — up to 12 feet — to prevent it from drifting.
While the home has never been tested in a real-life flood, engineers believe it will work. If so, it will be interesting to see if the design concept is repeated in other communities.