Coffee Lover's Prepare-aphernalia: VIA Ready Brew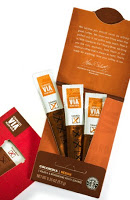 Unless you happen to live on a remote desert island, you've probably heard about Starbucks' new product — VIA Ready Brew.
And, if you're anything like me, you've even been handed a few of the little packets to try out after motoring through the mocha drive-thru.
But this particular take on instant coffee got us thinking… Not only can you add hot water for you morning cup of at-work joe, you can also add COLD water and it'll still "brew" up…making VIA just about the perfect item for any coffee lover's disaster kit.
You can also get creative. No clean drinking water? Try adding VIA to your shelf-stable soy milk.
In short, we're saving up all those drive-thru freebies and stuffing them in our ever-expanding kit. And, Starbucks, if you're listening, feel free to send a few more in our direction. A girl can never be too prepared!
P.S. Just a reminder that all our blog posts for prepare-aphernalia are things that we think are cool, NOT that we're paid (or otherwise encouraged) to write about!