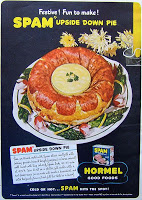 Have you ever tried SPAM?
I have. In fact, I just ate some on Tuesday night — green eggs and SPAM, actually.
If you haven't tried it, it's basically an extra-salty version of ham. IMHO, it's a little less dense and a little more spongey, but it fries up nicely overall. Check out all the recipes!
I tell you this because SPAM has a shelf-life (two years, room temperature) that makes it a perfect protein provider in a disaster kit. I also tell you this because Hormel — the makers of SPAM — just donated 30,240-pounds of SPAM to the Philippine National Red Cross to help feed those affected by the recent typhoons.
Now I don't know how many cans that translates to, but it sounds like a pretty stunning donation.
So thank you, Hormel, for creating a product that helps both pre- and post-disaster. There's no doubt survivors will appreciate your gift.
TIME magazine SPAM advertisement from Kitkatcrazy's copy of May 14, 1945.