Students: Enter The Safety Video Contest!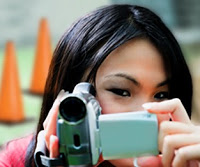 From Oregon OSHA:
Cue the director; it's time for high school students across Oregon to create a 45-second public service announcement promoting young worker safety and health. The top three entries will take home cash prizes ranging from $300 to $500 and will earn a matching amount for their school.

The contest is designed to increase awareness about safety on the job for young people, with the theme of "Save a Friend. Work Safe." Specific video guidelines are outlined in the contest rules. Students are encouraged to develop a slogan, use humor, and get creative while emphasizing ways to protect themselves at work. Submissions will be judged on a specific set of criteria.
Bilingual or multilingual PSAs are welcomed, especially in languages commonly spoken in Oregon (such as Spanish and Russian). The deadline for submissions is Feb. 15, 2010.
Contest winners will be unveiled at a screening event to be announced this spring and winning entries will be posted on YouTube. For detailed contest information including contest tips,
rules, and entry forms, go to www.orosha.org/psacontest/.
The Oregon Young Worker Health and Safety Coalition, Oregon OSHA, SAIF Corporation, American Society of Safety Engineers, and DHS-Public Health Division, Occupational Public Health Program are sponsoring the contest.