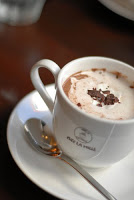 There are many things I love about winter — hot chocolate, mittens, flannel jammies and woolly tights, to name but a few.
Well, our friends at NOAA must be looking forward to jammies as well, 'cuz they're already wanting us to think about winter weather, even when it's in the mid-60's outside.
That's right, this is Winter Weather Safety and Awareness Week throughout the NW and there are tips every day to make sure you're prepared when freezing weather strikes.
Want wintery terminology? Need to know the difference between a watch and a warning? Wondering how to tell apart an eastern and western windstorm? NOAA's got it covered.
October 18 : Introduction to Winter Weather and Awareness
October 19 : Winter Weather Safety…Terminology, and Dissemination
October 20 : Winter Weather Outlooks, Watches, Warnings and Advisories
October 21 : Blizzards, Snow & Ice Storms, Wind Chill, and Avalanches
October 22 : Floods
October 23 : Windstorms (east and west of Cascades)
October 24 : Summary of Winter Weather and Awareness
If you want even more winter weather tips, you can always go to our website at:
We're with NOAA — it's never to early to be ready…or throw on flannel jammies!
Photo courtesy of Smaku