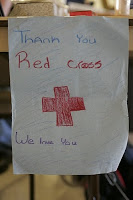 How about something to warm your heart at the end of this long week…
Nate
brought me some thank you letters he received from school kids that his team had taught about preparedness, and I decided I'd type up a few sweet highlights. (My favorite is the last one. Hey, there's something to be said for honesty!)
Thanks for visiting our classroom… I didn't know that a fire extinguisher lasts only 8 seconds. That's some interesting stuff. I think your program is awesome. If someone didn't know what you talked about and heard it, it could save a life. Keep doing what you do.
– S.O.
Sometimes we just don't think about how something can come that we are not expecting… and just can't even imagine how we could just lose everything. After your speech I went home and talked about getting prepared for a bad time coming. So thank you so much for your time.
– K.M.
Thanks to you guys I got home and started packing up for emergencies. My family and I made a plan for fire emergency.
– A.M.
I really liked that you guys showed us what we should keep so that we would be prepared. I found out some things that I did not know.
-R.G.
I learned a lot… You should come to our class more often… because you came to our class I get extra credit.
– P.L.