TweetsGiving: Making The "T" Word A Trending Topic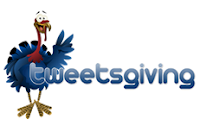 Around this time of year you start hearing the "T" word a lot. No, not turkey… Thanks.
And we want to
thank
the people who nominated us for
TweetsGivingPDX
– an event celebrating non-profits who use technology for good. We're honored that you thought of us!
We'll be speaking at the event next Tuesday evening at the Lucky Lab SE (details below) about how we utilize the magic of tech to spread the word about our mission. This, by the way, will be one of many TweetsGiving events around the world encouraging participants to express gratitude using online tools. In other words, making the "T" word a trending topic. How cool is that?
Join us – along with the other nominated non-profits – on Tuesday, November 24 for Portland Tweetsgiving!
* Where: Lucky Lab SE, 915 SE Hawthorne Boulevard
* When: 5:30 – 7:30p
RSVP