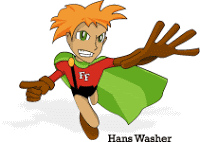 Today's my last day in the JIC, so I'll give you one last flu-riffic resource — the Flu Fighters!
These superheroes are a grown up version of the Scrub Club, complete with equally excellent names. There's Maxxine Vaccine, Hans Washer and — my personal fave — Andy Septic.
Their message? Be a workplace flu fighter: practice the flu fighting code.
The Flu Fighters began as in internal campaign at SAIF, but have been so successful that they're now being shared with Oregon employers as a public service.
View and download the Flu Fighter posters (and learn the code!) here: