Worldwide Wednesday Wrap-Up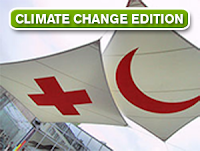 Welcome to another special edition of the Worldwide Wednesday Wrap-Up, in which we consolidate the international Red Cross and Red Crescent news into one list of bite-sized links for you.
This week the United Nations Climate Change Conference (COP15) in Copenhagen, Denmark is coming to a close. World leaders are gathered to discuss climate change, and the Red Cross has representatives in attendance. So this week's Wrap-Up will, again, focus on how we've contributed to the conference as well as ways Red Cross and Red Crescent societies are adapting to climate change worldwide…
[The place names link to maps so that you can get a quick idea of the region.]
MALAWI
: Ducks float. Chickens don't. After their chickens began drowning in floods, Malawi farmers switched to raising ducks. Then – with the help of a former journalist – they
made a video
to teach their fellow farmers about this, and other ways to adapt to climate change and avoid food shortages.
KENYA
: The drought, which used to come every decade,
now comes every year
. Carcasses of livestock, dead from dehydration, litter the landscape. Outbreaks of cholera and other diseases arise when people have no choice but to use unclean water. The Kenya Red Cross is distributing food and water, and also working with communities on long-term adaptation strategies.
– Planting trees to prevent landslides is just one of the ways that preparedness can help mitigate natural disasters. Madeleen Helmer, head of the Red Cross Red Crescent Climate Center, gives an
interview on NPR's Marketplace
about adapting to climate change with preparedness.
– In May 2008 forecasters predicted above normal rainfall over West Africa. This enabled the Red Cross to pre-position extra supplies and volunteers in advance of floods.
This video
– being shown at COP15 – explains more about how the Red Cross is using weather forecasts to improve humanitarian decision making.